Katun-lem-la-quoi? Why you shouldn't miss out on these legendary Thai comics during Grafixx
Tue 22 Nov 2022
In the heyday of the genre, some 200 million (!) comics circulated in Thailand. They are known as katun lem la baht, a name that refers to the cheap price of a copy: one baht, or one old Belgian franc. During Grafixx you can discover these cult comics. We present the most important features here, in a handy Q&A.
 
Why are the one baht comics so interesting?
First and foremost: because the one baht comics are largely forgotten today, whereas they were were mass-produced in the 70s and 80s. Thai people read one such cheap comic during their smoking break and then threw it away — kind of like you would throw a newspaper away after reading it. Secondly, the one-baht comics tell us a lot about the historical backbone on which the Thai nation was built: a history of contradictions, hopes and revolutions, in which the contrast between countryside and city has often played a major role.
So … A big chunk of history, wrapped in bite-sized stories?
Something like that, yes. Although the katun lem la baht do not pretend to tell factually correct stories. On the contrary, they are bursting with fiction. Stories about demonic spirits, sword fighters, fairies, love, revenge, marriage, but also about drugs, prostitution and violence. Not for the faint of heart.
The preferences of the rural readers differed from those of the urban readers. In the countryside, the folkloric tales were popular. In the city, people liked their stories a bit rougher and more realistic. Side note: queer stories are said to have been circulated, although sources about that are scarce. Anyway: the one baht comics were eagerly read by a wide audience of young and old.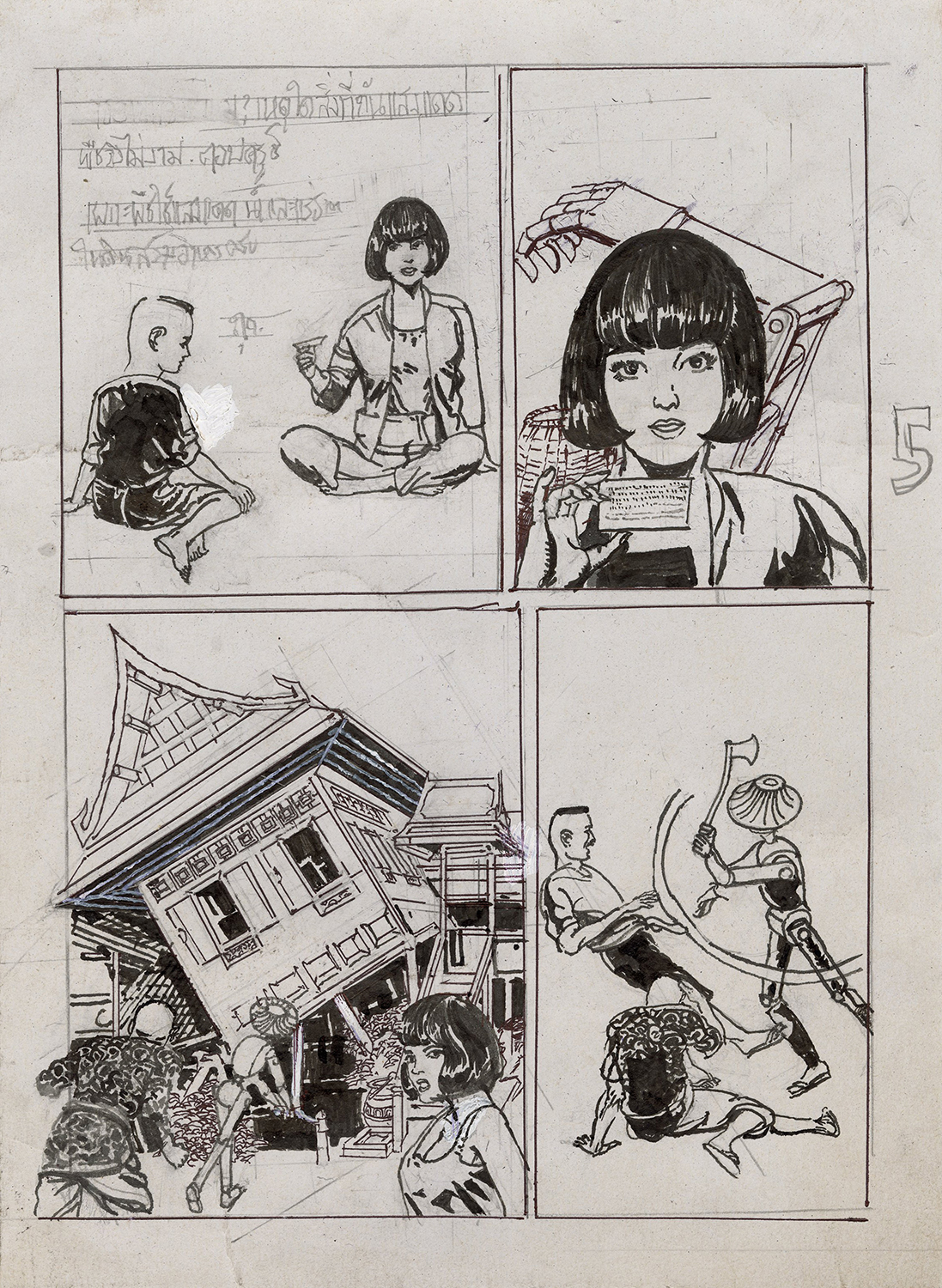 Pure escapism as it were?
That's one way to see it. Katun lem la baht in the 1970s were to the general public what Netflix is ​​today: a cheap form of unpretentious entertainment.
Sounds a bit like the airport novels of the past.
That's certainly a valid comparison. The one-baht comics featured escapist storylines. Production costs were low, as they were printed on cheap paper and the authors were paid little. The comics were sold in barber shops, hair salons, and kiosks in train stations. Employees read them during lunch.
Production declined in the late 1980s. The economic recession certainly had something to do with this, but other factors also played a part: competition with Japanese manga (which has since conquered the world), the declining quality of the stories (with fewer and fewer readers as a result), and of course the rise of television and ultimately the Internet as ultimate sources of entertainment. The humid climate also ensured that few publications remained intact. One baht comics became lowbrow, they were looked down upon. And as it goes with lowbrow culture, at a certain point in time these frowned upon cultural expressions become … interesting again.
Curious about Thai comics? During Grafixx you can view the originals of a new short story that was composed especially for the festival. We also scour the archives of comic book author Aphichat 'Uncle Orn' Rodwathnakul, who caused a furore in the 80s and 90s, and present an inspiring selection from his sketchbooks. In addition, the work of the young collective Two in Row is presented. That way two generations of Bangkok cartoonists embark on a dialogue.
Grafixx celebrates its 10th anniversary on 25, 26 and 27 November in De Studio.